Join us aboard the trolley of the doomed, as your Ghost Host entrances you with tales of misfortune and mayhem. Hear accounts of long-gone residents who can still be seen in numerous locations around the city. The tumultuous past transcends into the present as we travel through the ancient city.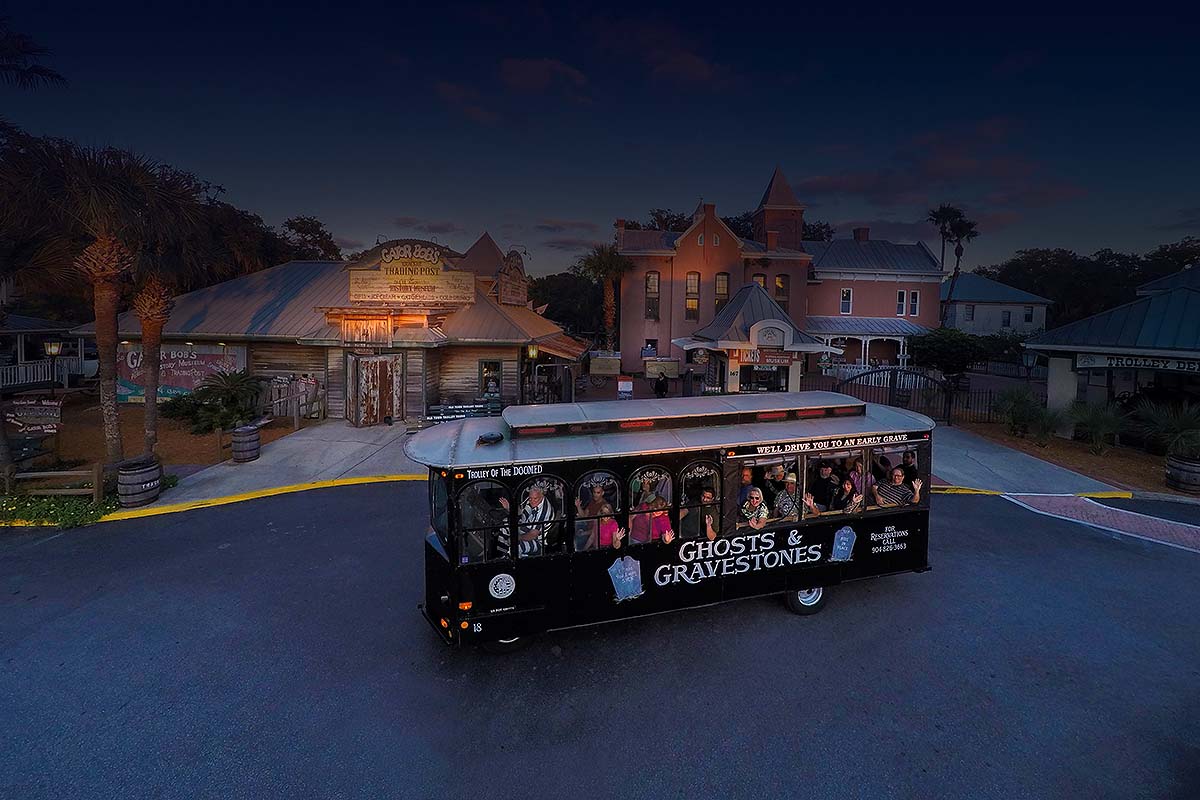 Prepare yourself for a Frightseeing Adventure like none other as your resident Ghost Host shares tales both true and truly unnerving of the city's tumultuous past. Discover the secrets of the Tolomato Cemetery and the apparition seen playing on the sacred grounds after dark. Could it be the spirit of five-year-old James or is it the Ghost Bride, still waiting for her walk down the aisle. Be sure to keep a watchful eye while passing by the old City Gates. You might catch a glimpse of Elizabeth, a child victim of yellow fever, waving to passersby.
Get ready for an up close and personal encounter of the town's most haunted building, the Old Jail. Listed on the Florida and National Register of Haunted Places, it is the site of countless documented paranormal experiences. Unlock the secret of an (EVP) voice recording captured during a real paranormal investigation and its possible connection to the well-known hangings carried out on the site. Cameras or camera phones are recommended to take pictures through the building's famous and ominous windows and potentially capture something unworldly!
Your final destination includes an exclusive nighttime experience inside Potter's Wax Museum's Chamber of Horrors for a unique retelling of the famed pirate Andrew Ranson's gruesome execution!
TIP: Plan to arrive at least 20 minutes early to make time to visit Cromwell's Parlour of Paranormal Curiosities. It is located inside the Old Town Trolley Welcome Center at 27 San Marco Ave., the check-in and boarding location for the Ghosts & Gravestones tour. Cromwell's Parlour is St. Augustine's only collection of the paranormal and unexplained. All objects are authentic and are either historic or supernaturally significant. The collection was gathered in this room in hopes of achieving a greater understanding of the unexplained and supernatural world.
Tonight's the night… Ghosts & Gravestones awaits… When the conductor howls "All Aboard" – will you be there?