Witness Stories of Brave Explorers
As you step aboard our orange and green trolleys, reminiscent of a bygone era, you'll begin an immersive experience unlike any other. Old Town Trolley Tours, the city's original sightseeing tour, allows you to explore the city's iconic and historic landmarks. Led by our knowledgeable and friendly conductors, this tour offers panoramic views of America's Finest City. From the historic Gaslamp Quarter to the birthplace of California in Old Town, you'll witness the stories of our founding fathers and brave explorers come to life.
San Diego by Sea and Land
But our tours extend beyond just the city streets. Hop aboard the San Diego SEAL Tour and witness the city from a unique perspective by sea and land. Hydra-Terra amphibious vehicles take you on a thrilling adventure, splashing down into the bay after a scenic road trip around the Big Bay. As you glide along the calm waters of San Diego Bay, you'll be treated to stunning views of the city skyline, the North Island Naval Air Station, and even the playful San Diego sea lions. This is the only amphibious tour in San Diego, offering a comfortable and safe way to experience the city's wonders.
It is a city that holds the stories of pioneers, explorers, and visionaries who have shaped our nation. Preserving its historical sites is not only a testament to the past but also an opportunity to learn from and appreciate the struggles and triumphs of those who came before us. These landmarks serve as living memorials, connecting us to our roots and instilling a sense of pride and identity.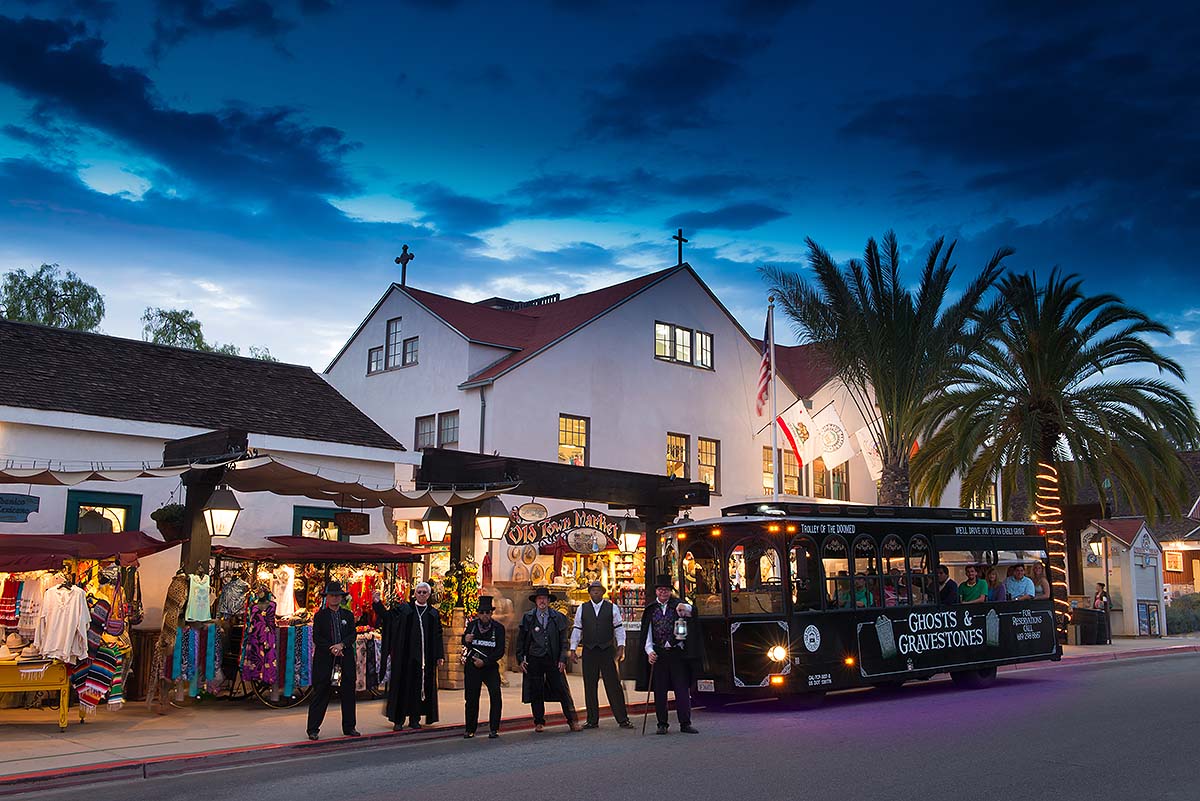 For those seeking a taste of the supernatural, our Ghosts & Gravestones Tour takes you on a spine-chilling journey through the city's haunted past. Travel back in time and encounter the spirits of wild characters like Gunslingers, Gamblers, and Ladies of the Night who once roamed the city's streets. Explore Pioneer Park, where the sun goes down and an eerie atmosphere descends upon the El Campo Santo Cemetery and the infamous Whaley House, widely regarded as America's most haunted home. Brace yourself for an evening of ghostly encounters and mysterious tales.
A Lasting Legacy
At Historic Tours of America, we are proud to showcase America's rich history and the cities that have shaped our nation. San Diego, with its stunning natural beauty, vibrant culture, and captivating landmarks, stands as a shining example. We feel privileged to bring these stories to life through immersive experiences that combine entertainment, education, and exploration. We are also deeply committed to giving back to the community and supporting the towns we serve. Through partnerships with local organizations and active participation in educational programs and community events, we strive to make a positive impact. Together, we create a lasting legacy that preserves the heritage of San Diego for future generations.
Join us as we celebrate the allure of San Diego and its extraordinary attractions. From the Old Town Market, where you can indulge in homemade tortillas and experience the city's earliest years, to the Whaley House Museum, a Greek Revival masterpiece steeped in mystery and paranormal tales, our tours offer a comprehensive glimpse into Old Town San Diego's charming past.
TICKETS
Choose Your Tickets
Whether you're just breezing through or enjoying an extended stay, we've got several options to choose from to help you maximize your time in San Diego and still see the best first!
TOURS
Discover Amazing Tours in San Diego
MUSEUMS & ATTRACTIONS
Step Back in Time and Explore San Diego Culture
SHOPPING & DINING
Sample Tastes, Sights, and Sounds
Our Free Hometown Pass is the best way to entertain visiting friends and family!
All residents of San Diego County can take advantage of some of our tours and attractions for FREE when accompanied by an adult full-fare paid guest.* It's Simple, Fast & Best of all… Free!