Situated on the banks of the St. Johns River, some 25 miles south of the Georgia state line and 340 miles north of Miami, is Jacksonville, Florida. Nicknamed The Bold New City of the South, Jacksonville is the 12th most populous city in the United States with a metropolitan population of more than 1.3 million residents.
The city's history dates back to the late 1700s when it was named after the 7th President of the United States, Andrew Jackson. Today, Jacksonville is a fascinating metropolis with a burgeoning arts and cultural scene featuring riverfront restaurants and well over a dozen music venues and museums.
Did you know that Jacksonville is the largest city by area in the continental United States with over 840 square miles?
While there's plenty to do in the River City, a weekend getaway to interesting locales in Florida and Georgia is a great way to refresh and reinvigorate. So here are a few cities to visit when the travel bug bites.
Touring the Sunshine State
Located about 40 miles south of Jacksonville is the Nation's Oldest City. Founded in 1565 by Spanish admiral and Florida's first governor, Pedro Menendez de Aviles, the city served as the capital of Spanish Florida for over 200 years. Today, St. Augustine is one of the most visited destinations in Florida with more than 4 million people living within a two-hour driving radius of St. Johns County.
March and April are great months to visit St. Augustine. Average temperatures hover in the 60s and 70s and precipitation is historically lower than summer months. Downtown festivals are also in full swing including Lions Seafood Festival, Rhythm & Ribs and St. Augustine Celtic Music & Heritage Festival. Concert season is just ramping up at the Amphitheatre with performances by nationally and internationally touring acts such as Mumford and Sons, The Moody Blues, Ray LaMontagne and Aretha Franklin.
St. Augustine is easy to get to by car – located just off of Interstate 95 – and is home to Northeast Florida Regional Airport, which services Frontier Airlines and Via Air to cities like Philadelphia, Chicago and Charlotte.
Before you head to the Nation's Oldest City, some travel essentials include a camera for capturing all of the historic architecture and cobblestone streets and plenty of comfortable clothes and shoes for all of the exploring you are bound to do. And don't forget the sunscreen and beach towels; there are more than 42 miles of pristine beaches in the area.
When you arrive in St. Augustine, a great way to get around the city is on a sightseeing tour. Old Town Trolley offers many convenient stops at popular attractions like Potter's Wax Museum, St. Augustine Distillery, Villa Zorayda, and Ripley's Believe It or Not! and over 100 other points of interest. Make sure to pick up the trolley's comprehensive map and tour brochure, which offers coupons and discounts to the city's favorite places to visit.
And what would a vacation be without a little shopping and plenty of eating and drinking? Check out the shops along St. George Street and boutiques on King Street by the Casa Monica Hotel. A few favorite restaurants among the locals include The Blue Hen Cafe on Martin Luther King Avenue and Ice Plant Bar on Riberia Street, one of the best craft cocktail bars in the southeast. The Floridian and Barley Republic Irish Pub, both on Spanish Street, will round out a foodie's evening.
More than just theme parks and kitschy attractions, Orlando has grown into an arts and culture-filled city with a budding craft cocktail and farm-to-table scene. Orlando is located approximately 125 miles southwest of Jacksonville, which equates to a two-hour drive via Interstate 95 and Interstate 4 and has plenty to offer for a weekend getaway.
Plan to visit Orlando in April when the average temperatures spike to the mid-80s and dip to the high 50s. The City Beautiful, as it's known by residents, is also a great starting point for more exotic locales. The Orlando International Airport and Orlando Sanford International Airport offer daily flights to destinations all over the world.
Settled in 1875 and incorporated as a city in 1885, the historic core of "Old Orlando" resides in Downtown Orlando along Church Street, between Orange Avenue and Garland Avenue. Check out the neighborhoods situated around Lake Eola where century-old oaks line brick streets such as Lake Eola Heights and Thornton Park. Just north of the city lies Winter Park. Once considered a winter resort, today, Winter Park features more than 70 parks and various events, festivals and celebrations throughout the year.
When you go, check out downtown restaurants like 310 Lakeside on East Pine Street, Kasa Restaurant & Bar and Downtown PourHouse, which are both on South Orange Avenue, as well as The Rusty Spoon on West Church Street and Super Rico Colombian Bistro on West Central Boulevard. Orlando has plenty of shopping too, including high-end retail stores and independently owned boutiques.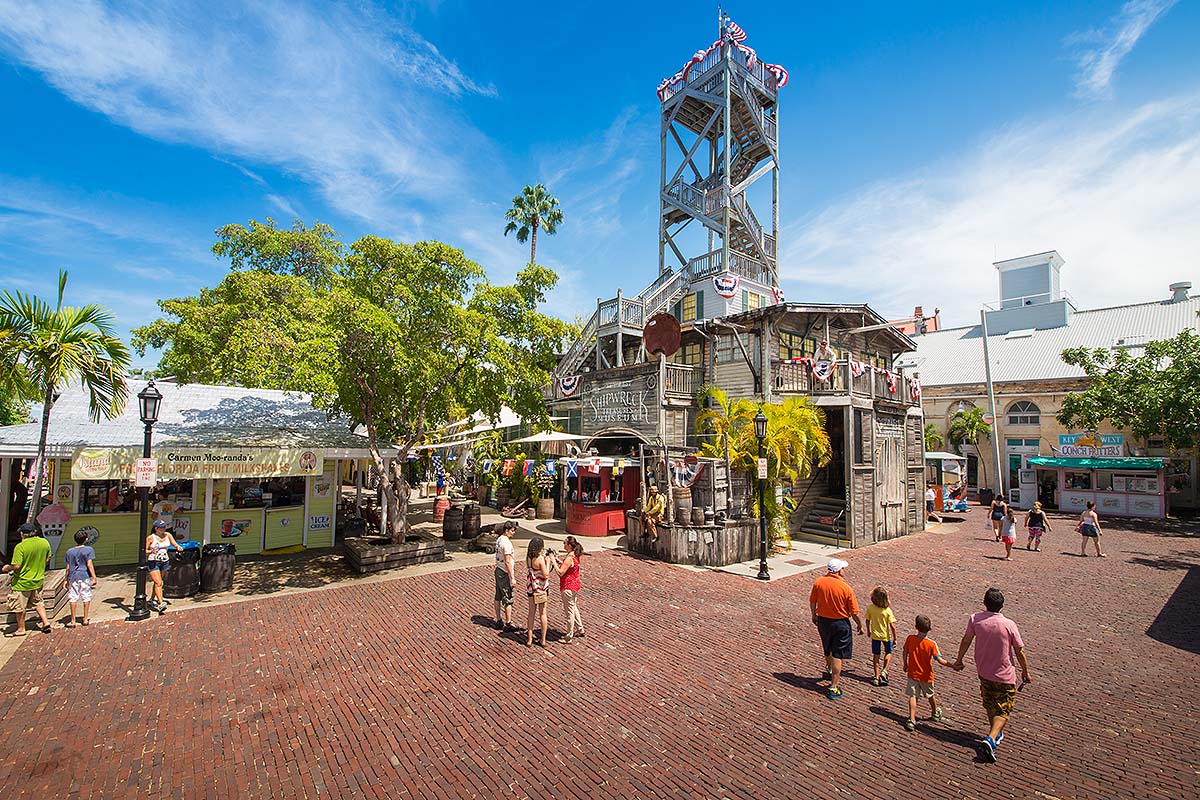 Located about 500 miles south of Jacksonville, the Southernmost City in the Continental United States is a bit of a drive for a weekend getaway but can be reached by airplane. And the travel will be worth it once you reach the white sandy beaches, coral reefs, and pristine blue-green water of the Straits of Florida. The island paradise was designated as American property in 1822 when Lt. Commander Matthew C. Perry sailed the schooner Shark to the island and planted a U.S. flag. Nowadays, Key West offers sun-drenched hospitality, a colorful history, and year-round superb weather.
Some of the best months to visit Key West include April and May with average temperatures hovering in the 70s and 80s and precipitation lower than most of the other months. It is also an ideal destination for events like The Final Sail: Key West Sailfish Championship and is home to annual festivals like Fantasy Fest, Songwriters Festival, Mini-Lobster Season, and the annual Conch Republic Independence Celebration.
An island city and part of the Florida Keys, Key West is roughly 90 miles north of Cuba. It's also a popular stop for cruise ships and is home to Key West International Airport, which services the major airlines as well as charter flights. Catch a flight at Jacksonville International Airport, make a pit stop in another Florida city and you'll land in paradise before you can say, "One mojito, please." You can also elect to land at Miami International Airport and rent a car for a scenic drive down the Overseas Highway.
Before you head to the Southernmost City in the Continental United States, there are a few essential travel items to remember. Casual, island-style attire is the ticket to Key West's quirky culture. Leave the suits, ties, and dress shoes at home for this vacation. Instead, opt for bathing suits, flip-flops, and sundresses. Think neighborhood barbecue rather than fancy dinner. Also, make sure to pack anything beach-related such as sunscreen, scuba gear, towels, and buckets and pails for the kids to make sandcastles. And if you're bringing along a camera, try your hand at underwater photography to capture family fun in the aquamarine waters that are unparalleled to any other locale in the U.S.
Famed for its pastel-hued, conch-style houses and laid-back attitude, a great way to get around Key West is on a sightseeing train. Old Town Trolley offers many convenient stops at area attractions such as the Key West Aquarium, Ripley's Believe It or Not!, Key West Shipwreck Treasure Museum, and Truman Little White House, which hosted noteworthy Americans like President Harry S. Truman, Thomas Edison, and scientist Edward Hayden. There are more than 100 points of interest to explore across this small island. You can even test your fright level with a Ghosts & Gravestones tour, which explores the island's eerie past as one of the most haunted cities in America.
As far as shopping and dining, Key West has that, too. Check out boutiques such as Tucker's Provisions, Besame Mucho, and The Green Pineapple on Duval Street for cool, eco-friendly treasures or the perfect t-shirt. There are also famous eateries and bars including Blue Heaven for Floridian-Caribbean fusion-fare on Thomas Street, El Meson de Pepe for authentic Cuban cuisine on Wall Street, and Azur Restaurant for Mediterranean dining on Grinnell Street.
Traveling North to Georgia
Located about 139 miles north of Jacksonville is The Hostess City of the South. Established in 1733 by General James Oglethorpe and settlers from the ship Anne, Savannah is the oldest city in Georgia and is situated on the beautiful Savannah River. Today, the quintessential Southern city is an industrial center and important Atlantic seaport that attracts millions of visitors to its cobblestone streets, antebellum architecture, and dozens of manicured parks and historic squares.
May and June are ideal months to visit Savannah with temperatures ranging from the low 60s to upper 80s and precipitation on average lower than the later summer months. It is also one of the top cultural hubs in the southeast featuring everything from American Impressionism exhibitions to live music and theater events. Check out the Savannah Civic Center, a first-class facility located on West Oglethorpe Avenue that hosts over 500 events a year, as well as the Savannah Theatre on Chippewa Square, SCAD Museum of Art on Savannah College of Art and Design's main campus and Lucas Theatre for the Arts, which hosts the annual Savannah Film Festival.
Savannah is easy to get to by car – located not far from Interstate 95 – and is home to Savannah/Hilton Head International Airport, which services a half-dozen airlines including American Airlines, Delta, and JetBlue.
Before you head to Savannah for the weekend, be sure to pack a camera for capturing the city's stunning natural beauty, fascinating history, and magnificent architecture, as well as plenty of comfortable clothes and walking shoes. After all, Savannah's downtown area is one of the largest National Historic Landmark Districts in the United States and features 22 squares varying in size and character.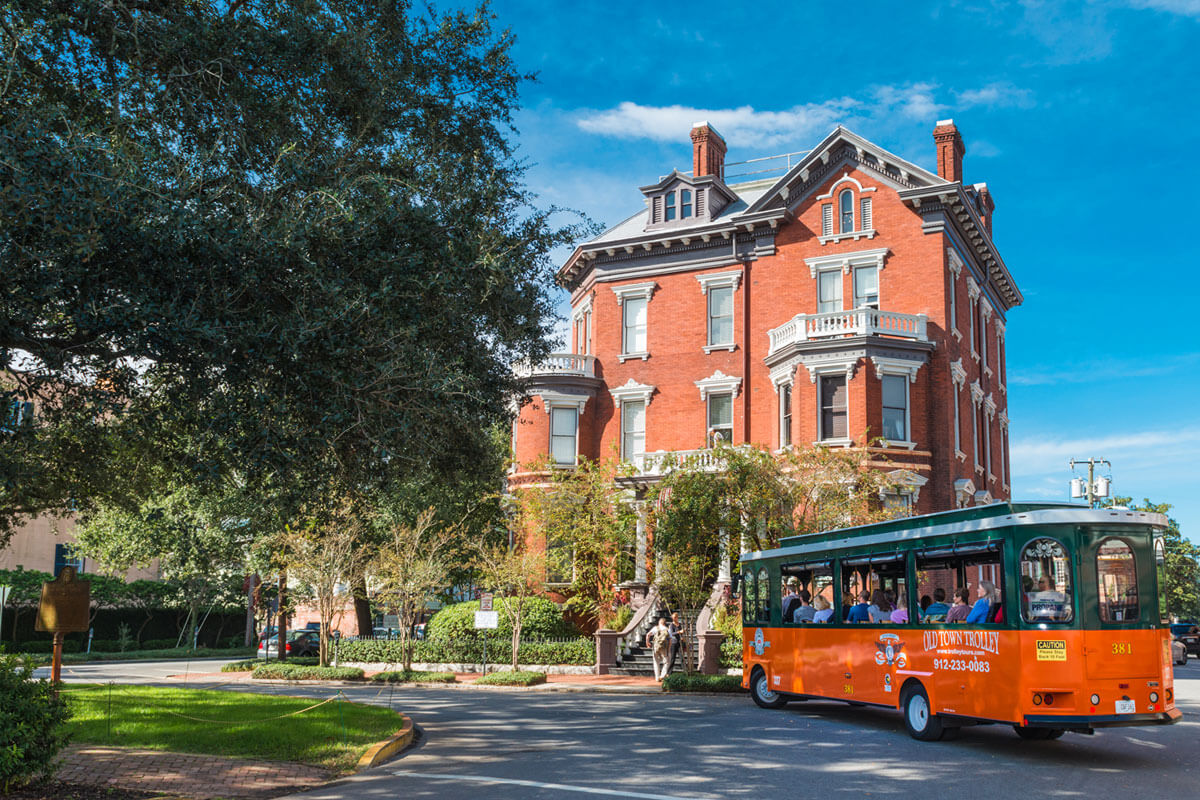 When you arrive in Savannah, a great way to get around the city is by Old Town Trolley. This sightseeing tour offers many convenient stops at area attractions including Juliette Gordon Low Birthplace, River Street, Forsyth Park, and Cathedral Basilica of St. John. For more than 30 years, the trolley has proven an entertaining and educational way to take in all that Georgia's first city has to offer. Make sure to pick up a copy of the trolley's official map and tour brochure for exclusive coupons to top attractions.
And like any perfect weekend getaway, there is plenty of shopping and eating to do in this quaint Southern city. Savannah's premier hotels such as The Bohemian Hotel Savannah Riverfront and Courtyard Savannah Downtown are just minutes from unique boutiques and outdoor cafes. Check out The Olde Pink House, a downtown staple housed in a restored 18th-century mansion, as well as 45 Bistro, Circa 1875 Gastropub and Noble Fare.
Valdosta
Did you know that Valdosta, Georgia is called the Azalea City? It's because of the abundance of flowering shrubs that grow in and around the city. Located just under a two-hour drive, or 122 miles, northwest of Jacksonville lies this small, but intriguing city in the south. Named after the plantation home of former Governor George Troup, Valdosta was incorporated in 1860. Today, the city has been garnering attention for its friendly, family-oriented atmosphere and great location for business and career builders.
When you're arranging a weekend getaway to Valdosta, plan to visit in March when the city's annual Azalea Festival is going on and the average temperatures range from the cool 50s to the warm 80s.
And when you visit Valdosta, make sure you pack your appetite. The city's growing culinary scene is solidified by favorites such as 306 North Restaurant and Steel Magnolias Restaurant, both located on North Patterson Street. Other points of interest in Valdosta include the zoological theme park Wild Adventures, Peach State Summer Theatre at Valdosta State University and Annette Howell Turner Center for the Arts. There's also Kinderlou Forest, a golf course designed by Davis Love III, and a historic driving tour of old antebellum mansions organized by the Valdosta Heritage Foundation.
Bed and breakfasts are the way to go for overnight accommodations in "A City Without Limits," as Valdosta residents refer to their home. Check out Fairview Inn, a quaint locale on River Street in Valdosta's oldest residential neighborhood. It's within walking distance of Lowndes County Historical Society and Museum, as well as downtown shops and restaurants.