Welcome to Washington
Washington DC has so many important points of interest that for most travelers there is just so much to see and do. Old Town Trolley Tours of Washington DC makes visiting all the sights of our nation's capital easy, convenient and fun with fully narrated tours that provide entertainment and fascinating facts about the city and United States history as well as convenient stops where you may hop on and off.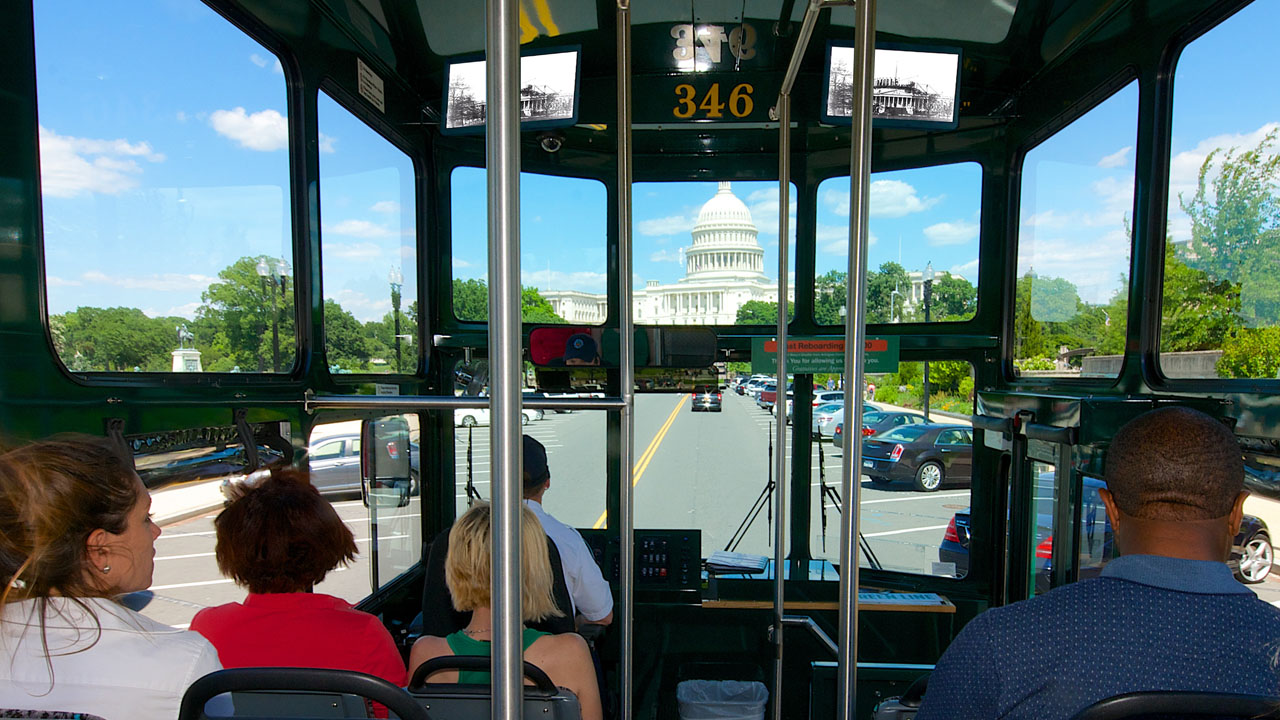 Board the orange and green trolley and visit the United States Capitol Building, the Supreme Court, and several of the Smithsonian Museums. See for yourself why so many people are in awe of the Lincoln Memorial and learn the touching stories behind the Vietnam Veterans and World War II Memorials.
Take your time to stroll through the Museum of American History and learn more about Ford's Theatre and that fateful night when Abraham Lincoln was assassinated. The past, present, and future are alive on every corner in Washington DC where history has been continually made and where our forefathers worked to protect our freedom.
On Old Town Trolley Tours, you'll also have time to hop off for shopping, dining and relaxing throughout the city at several of the area's best stores and restaurants. You'll feel free to stay as long as you wish at any of the stops along the way – as another trolley will soon come by to pick you up. Enjoy all that Washington DC represents at your pace. For more than 30 years, Old Town Trolley Tours has been the tour of choice for so many guests, young and old, delighting them with our own brand of Transportainment.
Hop On & Off at 15 Old Town Trolley Stops.
Unlimited hop-on & hop-off as often as you like all day long.
Fully Narrated Tour of Washington DC.
"One of the 10 best hop-on hop-off tours in the world" – Forbes.
"Top-rated hop-on hop off tour in DC" – Washington Post.
Over 100 points of interest.
Here are just a few reasons why Old Town Trolley is the best sightseeing tour in town:
Riding around the Beltway for over 30 years as DC's longest-running city tour!
All our tours are 100% live in real time – No pre-recorded narration
The finest, most highly-trained and knowledgeable guides
Proudly owned and operated in the United States
The only tour authorized to enter the grounds of Arlington National Cemetery (Must have separate ticket to enjoy the Arlington National Cemetery guided tour aboard our vehicles)
Exclusive foreign language tour app offered in 7 languages
BEST VIEW! Tallest vehicles allowed by law with stadium seating
Every seat is the best seat!
All-weather trolleys – rain or shine! Our vehicles get the job done
Onboard monitors display historical imagery
Comfortable padded seats for a pleasant tour
Free WiFi