Welcome to Key West
Key West is a beautifully historic town filled with impressive attractions and sites. Maximize your time for sightseeing by taking Key West shore excursions from Old Town Trolley. Whether you take the tour purchased from your cruise excursions desk, or take the tour with on-and-off privileges purchased from Old Town Trolley directly, you will have time to shop, visit attractions, and find your way to some of our most famous landmarks.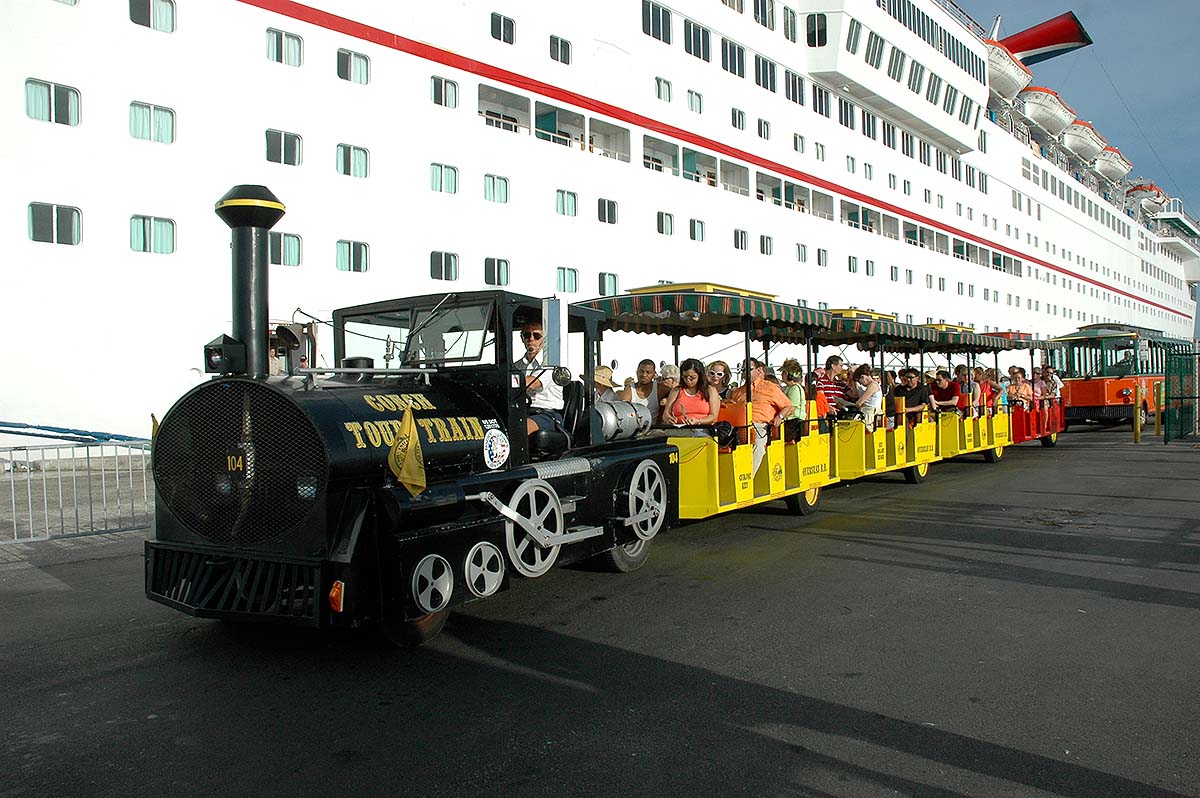 For over 35 years, Old Town Trolley has brought guests closer to Key West attractions like Harry S. Truman's Little White House, Ernest Hemingway Home & Museum, the Southernmost Point and the beaches just to name a few. And great shopping can be found throughout the island including famous Duval Street. For a memorable dining experience, look no further than Hog's Breath Saloon, Jimmy Buffet's Margaritaville and the Hard Rock Cafe. So come and see all the great things Key West has to offer aboard Old Town Trolley Tours.
TOUR OPTION 1: Purchase from Your Shore Excursions Desk
Our tours are designed to maximize your time here in Key West. You'll receive an overview of the historic district, covering 100 points of interest including the Ernest Hemingway House and Museum, the Audubon House, world famous Duval Street, the Southernmost Point in the continental US, the neighborhoods of Old Town, one of the largest historical districts in the US, the Key West Bight, West Martello Fort, and tropical flowers and plants. The tour ends in Mallory Square.
When using an excursion through the ship, the ship guarantees that it will wait until the excursion returns.
TOUR OPTION 2: Purchase tickets online or through our ticket depots
We provide a tour with on-and-off privileges. From the Southernmost Point to the streets of Old Town, our tour takes you to all the major areas and attractions. See Key West's first tourist attraction, the Key West Aquarium. Cross the street and you'll find yourself back in the 1800s at the Key West Shipwreck Treasure Museum.
Stop by the Ernest Hemingway Home & Museum and don't forget to look for the 6 or 7 toed cats! Cool off with a drink at the famous Sloppy Joe's Bar or Jimmy Buffet's Margaritaville. There's no better way to see all of Key West.
*Please remember: It is your responsibility to return to the ship on time.
How to Get to Old Town Trolley Tours or Conch Tour Train
There are 3 cruise ship piers in Key West:
Mallory Square
The Westin 'Pier B'
The Navy Mole
To return to any of the piers, adults must have both ship's card (which usually doubles as your room key) and a valid photo identification (passport, driver's license, etc.)
Mallory Square
Mallory Square is the closest to Key West's downtown area. It is a short walk into town—just look for the 'Welcome to Mallory Square' archway, and walk through.
Pier B
Pier B is where most of the Royal Caribbean ships are docked. It is close to downtown but is 200-250 yards from the pier to the tour locations. This distance is not affected by whether you take the excursion from the ship or if you walk downtown to take the regular tours.
The Navy Mole
The Navy Mole requires transportation to get into town. You will be met on the pier by trolleys and given shuttle service into town. There is no cost to this service. It is provided by the city of Key West. You will be transported to Mallory Square (in front of the Sponge Market). Walking is not an option, due to Homeland Security regulations. The Navy is still active on this pier.
Foreign Languages
We offer a 60-minute, non-stop Key West tour in German, French, Spanish, Italian and Portuguese to cruise ship passengers. Please ask at your shore excursion desk or a sales representative when you disembark.
For more information call (855) 623-8289.