You've boarded your boat, the wind is in your hair and the best days at sea are ahead of you – this is life aboard a cruise ship! The decks are filled with all you could ever imagine, the food is endless, entertainment is available and the range of activities fits the description of words like mega and epic. You can't even imagine that there could possibly be more… and then you disembark for a shore excursion.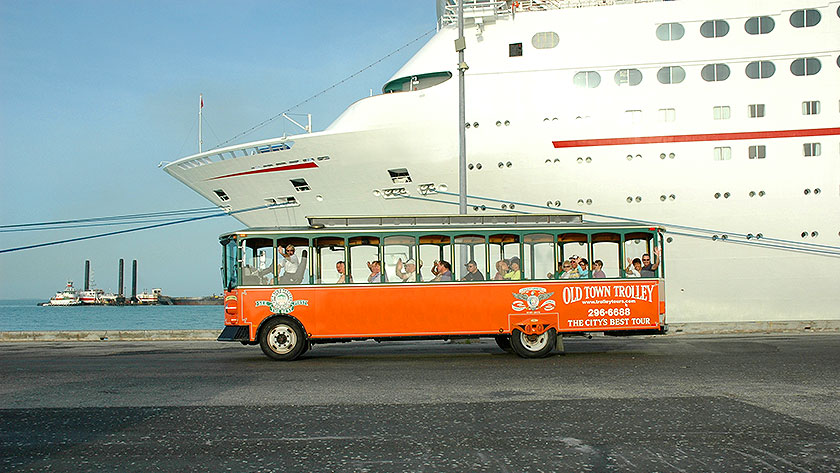 Sailing the seas is a modern-day tradition steeped in the history of voyagers who've come before all of us. Their maps were paper and yours are GPS chipped, but the adventurous spirit was welcomed then and now. If you're headed to Key West, you're ready for Southern fun, Southern sun, and Southern traditions. As the southernmost city in the continental United States, Key West's sunset celebrations, island flair, unique and intriguing people, and an extensive array of awesome never seem to disappoint. Whether you're in flip flops or heels, sundresses, or your favorite sarong – when your ship docks in Key West, you know you're in for a good time.
Filled with quirky characters and a laid-back vibe, the excursions available in this eclectic city run the gamut of adventure to relaxation, land to sea, and budget to luxurious. Whether you're hopping on and off a trolley, hitting a champagne sail, hanging with turtles or checking out the conch train, you're in for a treat of a lifetime keeping memories and stories flowing for decades. Take a walking tour of Duval Street, hang with the likes of Ernest Hemingway, explore with marauding pirates, lift a glass aboard a catamaran, ride the trolley to tour the city's sights or hit the water on your favorite watercraft – Key West excursions definitely don't disappoint.
1. Conch Tour Train
This 75-minute tour of the southernmost city takes you to many places of interest, and notable attractions and is sure to put you in perfect focus for an epic sunset at Key West's Mallory Square.
2. Kayak Tour
Grab your paddle to check out the wildlife of the sea while winding your way through the uninhabited islands of the glittery bay. Follow your guide through the local reserves as you spot marine life, learn the patterns of your winged friends, and check out the life beneath the waves.
3. Glass-Bottom Boat Tour
For over two hours, enjoy our underwater life amidst the Florida Keys. Munch on your snacks and enjoy your refreshments as we traverse the waterways while floating along on our double-decker catamaran. You, your family, and your little ones are all welcome to join along the epic exploration of the water environs.
4. Catamaran Sail and Snorkel Tour
Stay aboard or head off into the deep blue sea while along the ride of this elaborate excursion. On our more than three-hour tour, we'll sail the seas while checking out the hues of blues, schools of fish, and colorful world of coral. When you want to jump in and get a bit closer to the action, we've got you covered with snorkeling equipment as well as professionals to lend a helping hand.
5. Old Town Trolley Tour
Hop on and off as our trolley ride hits all of the main attractions of this sunset-famed city. Stopping along heritage hotspots such as Sloppy Joe's and Hemingway's house, our 90-minute journey keeps you informed, and entertained and entices you to continue to return to our special island home.
6. Sail, Kayak and Snorkel Excursion
This full-day journey takes over five hours but is a fantastic bang for your buck. With three excursions in one, we spend our day in the sun as we sail, snorkel and kayak our way to discovering the mysteries of the underwater world. We've got kayaking to islands, snorkeling amidst the sea, and sailing while snacking on chips and salsa – how much better could this possibly get?
7. Tall Ship Day or Sunset Sail
Sailing in Key West is tradition. Hop aboard this two-hour cruise to ride the waves, check out the sights of nature and commune with fellow travelers as you enjoy life on the sea as the magic unfolds around you.
8. Food Tasting and Cultural Walking Tour
Grab your local guide and head on out for an adventure for both your feet and your taste buds. Amidst the twists and turns of our special city, you'll hit the likes of Duval Street and Mallory Square. As you wander your way through history, you'll find the creative culture alive in each establishment, each treat, and each story.
9. Key West Aquarium
The exhibits, galleries and aquatic tanks of the Key West Aquarium enable guests to stay dry while discovering the amazing undersea world that surrounds the Florida Keys. Located on Key West's celebrated Mallory Square, the aquarium is one of the island's most admired attractions and has delighted visitors since 1934. It offers numerous displays of the magnificent marine animals that thrive in the warm coastal waters, including sharks, sea turtles and tropical fish. The interactive touch tank features conchs, hermit crabs, sea stars and sea urchins. The Stingray Bay exhibit enables you to feed and touch cownose rays. The Atlantic Shores Exhibit is a 50,000-gallon living mangrove ecosystem that is home to an extensive collection of aquatic and non-marine animal species. You can enjoy the aquarium at your own pace or join a guided tour. Guests also have the unique opportunity to witness and participate in animal feedings. Stop by the Key West Aquarium for the chance to have memorable encounters with alligators, jellyfish and other fascinating creatures inhabiting the waters of the Lower Keys.
10. Key West Bike Rentals
Explore all that the island of Key West has to offer in a revitalizing way by renting a bike. A leisurely ride around Key West on a comfortable beach cruiser enables you to get to know the real culture of the island and view some of its rarely seen sights. You can see various types of historic Colonial and South Florida architecture lining some of the old town's lesser-known streets, secret lanes and quaint alleyways. The cityscape includes a dazzling display of buildings adorned with vibrant colors along with the aroma of the exotic tropical flowers that bloom throughout the year. Check out the wide variety of trees that have been imported from around the world, and sample fresh fruit, such as key limes, coconuts, mangoes and star fruit. You can also ride to a popular beach or to one of Key West's famous attractions. A bike rental offers the opportunity to enjoy some exercise in the tropical air while savoring marvelous views, such as the spectacular Key West sunset.
11. Key West Art Galleries
Art has been an important part of Key West since its earliest days. The exotic land and seascapes of Key West have attracted artists of all genres and talents for decades. Stroll around Mallory Square and other popular gathering spots and you will see a variety of local and internationally renowned artists engaged in their craft. Whether it is a scene from old Key West or a modern interpretation, many of these works are also on display in the numerous art galleries that dot the island. These galleries feature original works by up-and-coming artists as well as established award-winners in a variety of media, including photography, sculpture, and oil on canvas. There are also handcrafted pieces ranging from jewelry to pottery using wood, glass or metal. Key West is overflowing with galleries. There are shops on Mallory Square and Truman Avenue as well as Duval and White streets featuring a wide variety of artists, styles and prices. Key West also sponsors the Old Island Days Art Festival, an annual two-day event that celebrates works by local talent.
12. Truman Little White House
A wintertime destination for numerous U.S. presidents, including Harry Truman, Dwight Eisenhower and John Kennedy, the historic military housing was built in 1890. The building, once the residence of the naval station's commanding officer, has been transformed into a living history museum. The estate was the setting for numerous important meetings between the nation's leaders during the Cold War and the Civil Rights Movement. It holds a special place in history as the setting where the outlines for the Marshall Plan and the Truman Doctrine were developed. Various legendary inventors, dignitaries and other influential people have visited this southern White House. The building features original furnishings dating from President Truman's time here. Tours during shore excursions enable visitors to travel back in time as they explore the site and view rooms where Truman lived and worked. Items on display include personal effects like his famous "The Buck Stops Here" sign on the desk.
13. Key West Shipwreck Treasure Museum
Relive Key West's legendary past with admission to the Key West Shipwreck Treasure Museum. Explore 400 years of Florida history as you tour two floors of artifacts chronicling some of the most famous shipwrecks off the coast of Key West. Displays include treasures from 17th- and 18th-century Spanish galleons, including a 64-pound silver bar. Featuring actors dressed in period costumes, documentary films and interactive exhibits, the museum brings to life the island's unique maritime heritage that once made it the richest city in the country. Guests can get a feel for what it was like to live aboard a 19th-century vessel. Discover the fascinating world of shipwreck salvage in the Below the Sea Theater. Learn the story behind the salvage of the Isaac Allerton, the richest shipwreck in Key West history. Climb the 65-foot-tall watchtower for spectacular views of the surrounding waters.
14. Best Key West Happy Hours
Boathouse Bar and Grill features a breezy Key West port waterfront location and a laid-back island vibe. Situated on Front Street, it is the perfect setting to relax after a day of exploring Duval Street or enjoying Key West shore excursions. Patrons enjoy half-off a wide assortment of appetizers and draft beers during happy hour.
The Porch offers guests quality wines and craft beers that change weekly at discounted prices in downtown Old Key West. Cruise guests can step back in time and enjoy artwork as well as ghost tales inside the historic Porter Mansion. The friendly spirit of Dr. Porter is still reputed to haunt his former home.
Renowned for its oysters, Alonzo's Oyster Bar features indoor and outdoor seating and one of the best happy hours in Key West. The waterfront location on the Historic Seaport offers marvelous views, half-priced drinks, and appetizers that could easily serve as a meal.
Located on the historic Key West port, the Schooner Wharf Bar is known for its Old Key West atmosphere. It features a wreck salvage décor and views of one of the largest working schooner fleets in the country. A favorite local watering hole, the bar offers guests extended happy hours as well as live music when the sun goes down.
Located at the southern end of Duval Street, the Southernmost Beach Café offers reasonable deals on waterfront dining and drinks. This open-air restaurant serves a wonderful happy hour menu of reduced-priced food and drinks. Select from an assortment of happy hour appetizer specials, grab your draft beer to go, and enjoy views of the Atlantic Ocean as you stroll on the warm sand.