Welcome to Boston
While on board Old Town Trolley Tours of Boston, you'll feel as if you've journeyed back in time to the era of the first colonists. Imagine how Paul Revere felt when he made his historic "midnight ride"; hear tales of how he and other famous settlers fought for freedom. As the Old Town Trolley makes its way throughout the city, you'll have the freedom to get off and back on as often as you wish; and there's always another trolley coming along soon. Boston tours aboard the trolley are the best way to see the sights in the city.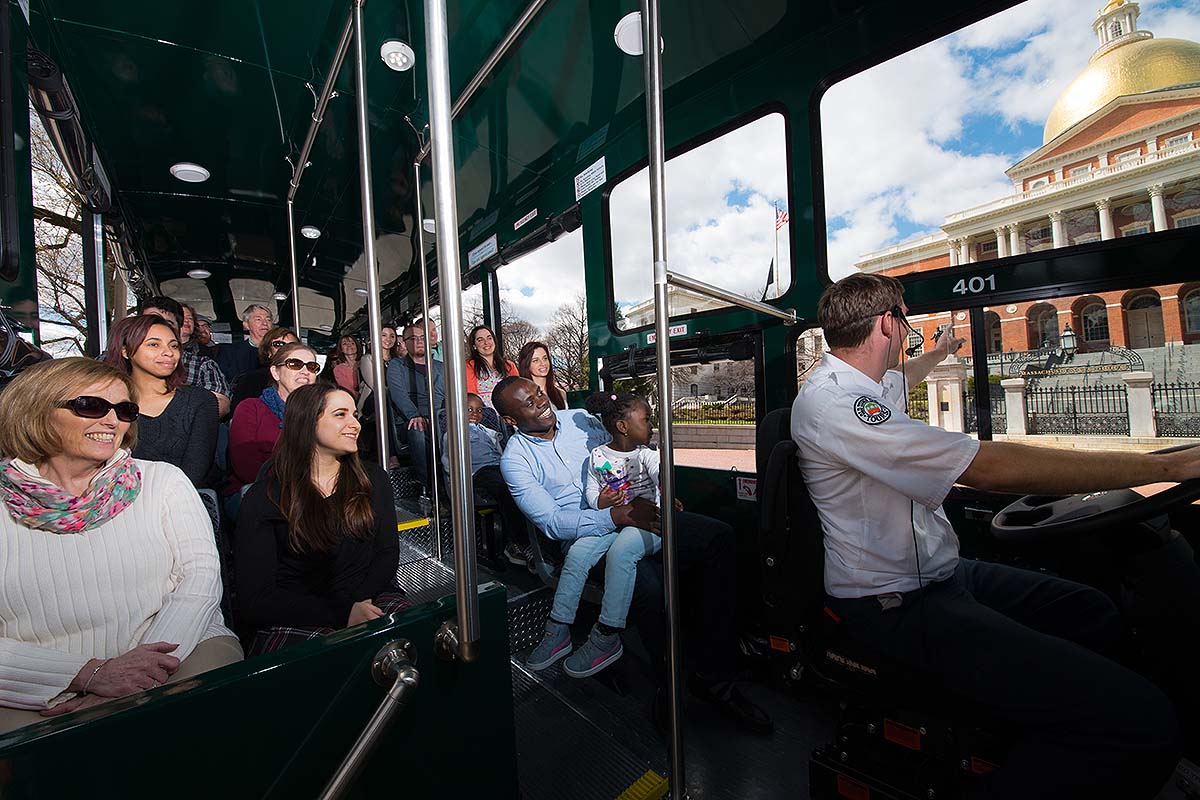 See ancient burial grounds, national historic landmarks like the Old North Church and the Old State House and many of the moving monuments in Boston like Bunker Hill and the site of the Boston Massacre. Experience the magnitude of what our forefathers suffered through as you walk along the Freedom Trail. Boston's critical place in the history of our country is evident in the many sights you'll see on the Old Town Trolley Tour.
Hop On and Off
You can also hop off the trolley to visit chic shops, museums, fine restaurants and the famous pub that the TV show "Cheers" was fashioned after. There's so much to do and see in Boston and we'll help you discover it all in a comfortable, relaxing, informative tour. Our expert conductors make the ride even more enjoyable as they delight guests with humorous stories and historical facts about the many points of interest along the way.
The Past and Present
One of the most important places in the USA's past and present, Boston is steeped in history and culture, offering an array of exciting activities and intriguing attractions. And on board Old Town Trolley Tours, you'll get an up close and in-depth look at it all. So when you're ready to see everything from Faneuil Hall to the Boston Harbor and everything in between, take your seat on one of our orange and green trolleys.
Here are just a few reasons why Old Town Trolley is the best sightseeing tour:
Unlimited hop-on & hop-off as often as you like all day long
50% off Historic Harbor Cruise*
$10 off Ghosts & Gravestones Tour*
$6 off admission to Boston Tea Party Ships & Museum*
$5 off Boston Summer Nights Sightseeing Tour* (May 26 – Sept. 4, 2023)
50% off admission at The Sports Museum*
All our tours are 100% live in real time
The finest, most highly-trained and knowledgeable guides
Ride up high without worrying about the weather
Best view! State-of-the-art stadium trolleys
All-weather trolleys – rain or shine!
Comfortable padded seats for a pleasant tour
*Applies to standard trolley pass. Pass is non-transferable. Other restrictions may apply. Pass discounts have no cash value and are not refundable and non-transferable. Historic Harbor Cruise and Boston Summer Nights Sightseeing Tour operate seasonally. Sports Museum: Must be redeemed within 48 hours from the day your Old Town Trolley Tour was taken. Please present your Trolley receipt at Sports Museum Information Desk. No need to book in advance. Check hours of operations and tour times. May not be combined with any other promos, offers or discounts. 5% city fee charged at time of purchase.