Hop Aboard the Orange and Green...
Discover the allure of Savannah aboard our iconic orange and green trolleys, where entertainment, education, and a touch of humor intertwine. Led by our knowledgeable and friendly conductors, our immersive experiences transport you to the birthplace of Girl Scouts Founder Juliette Gordon Low, the historic squares, and the renowned Sorrel-Weed House, revealing the diverse chapters of Savannah's vibrant history.
Step Aboard the Trolley of the Doomed
For those seeking an otherworldly adventure, step aboard the Trolley of the Doomed and embark on the Ghosts & Gravestones tour. As darkness falls, Savannah reveals its spooky side as "America's Most Haunted City." Delve into the haunted halls of the Andrew Low House, where apparitions and unexplained phenomena stir the imagination. Traverse the haunted Perkin's & Son's Ship Chandlery on River Street, where the spirits of the past still linger. Brace yourself for an evening of spine-chilling tales and ghostly encounters that will leave you with a sense of wonder.
These landmarks connect us to our shared heritage, offering a profound understanding of our nation's journey. Historic Tours of America takes great pride in contributing to the preservation and celebration of Savannah's extraordinary history. Through our immersive experiences, we aim to foster a deep appreciation for the city's cultural richness and its invaluable place in America's tapestry.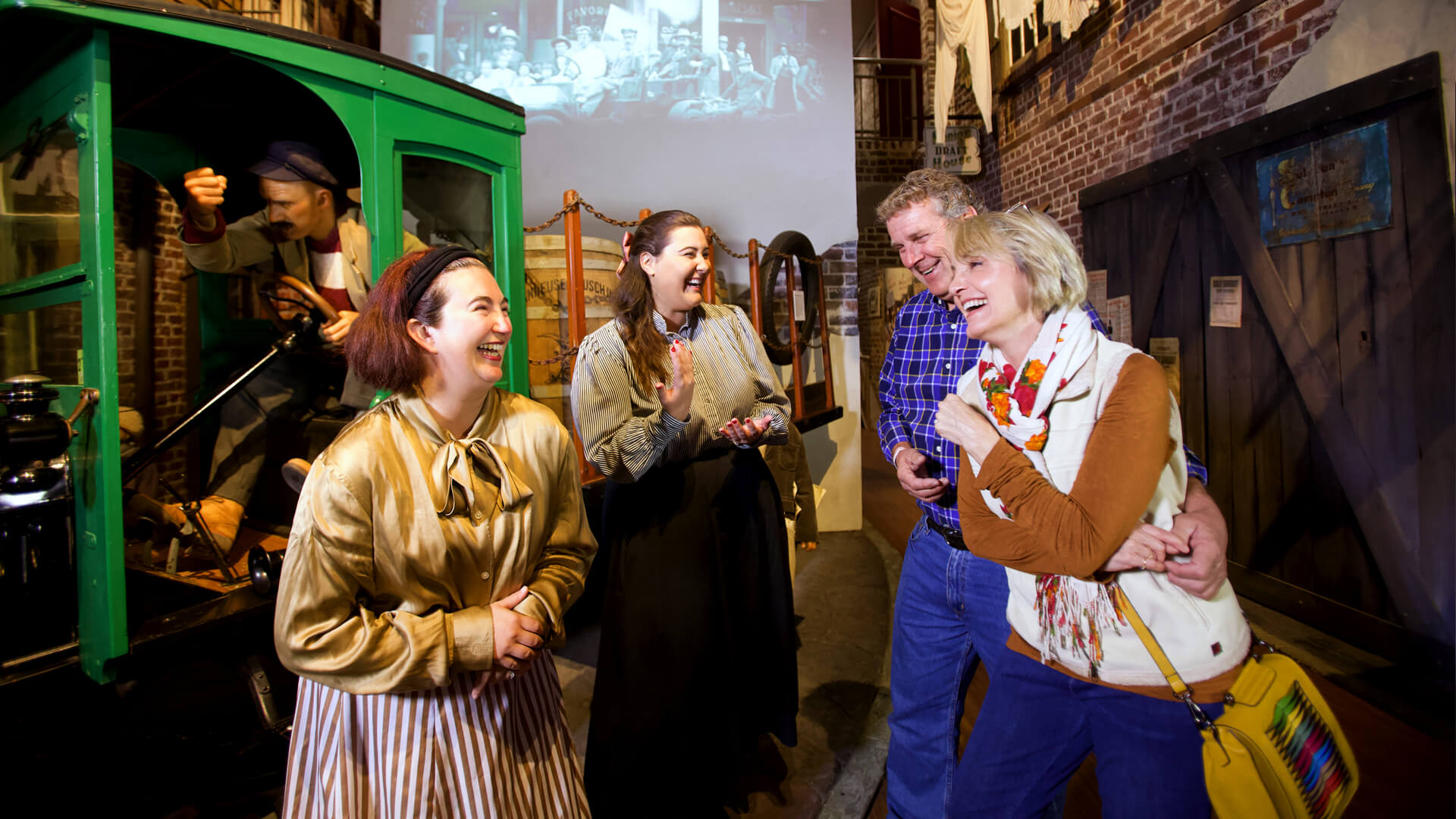 Transport yourself back to the roaring 1920s at the American Prohibition Museum, nestled in Savannah's lively City Market. Immerse yourself in the age of mobsters and flappers, as you uncover the captivating stories behind the 18th Amendment's unintended consequences. Marvel at the restored Prohibition-era vehicles, explore the extensive collection of artifacts and immerse yourself in captivating dioramas and hi-tech immersive displays. And don't forget to savor the experience of an authentic speakeasy, where craft cocktails await your discovery.
For a side-splittingly hilarious history lesson, climb aboard the Savannah for Morons Trolley Tour. Hosted by the infamous Moron Twins, Dannie and Danny, this high-energy romp through Savannah's past will have you in stitches. Prepare for outrageous comedy skits, toe-tapping musical numbers, and hilarious anecdotes that span from the founding of Georgia's colony to the Civil War. From iconic landmarks to little-known trivia, Savannah for Morons will keep you entertained, enlightened, and laughing out loud.
Let us be your guide to the timeless charm, captivating tales, and architectural wonders that define this city. Explore Savannah's rich history, immerse yourself in its vibrant culture, and create cherished memories that will endure for a lifetime. Historic Tours of America is delighted to showcase Savannah's unique heritage and share its profound contributions to America's rich tapestry. Together, let's unlock the secrets and beauty of Savannah's past and present.
TICKETS
Choose Your Tickets
Whether you're just breezing through or enjoying an extended stay, we've got several options to choose from to help you maximize your time in Savannah and still see the best first!
TOURS
Discover Amazing Tours in Savannah
MUSEUMS & ATTRACTIONS
Step Back in Time and Explore Savannah Culture
Our Free Hometown Pass is the best way to entertain visiting friends and family!
All residents of Bryan, Effingham, Liberty & Chatham counties in Georgia and Jasper County and Beaufort County in South Carolina can take advantage of some of our tours and attractions for FREE when accompanied by an adult full-fare paid guest.* It's Simple, Fast & Best of all… Free!